Security - Users - Crew Roles
Follow
This article will walk you through the step-by-step process of setting up your Crew Roles in Vonigo.
In this article:
Overview
Crew Roles can be used to quickly and simply assign work to your team members. It can also be used to configure which team members get what notifications, which is useful for preventing spam and other unnecessary clutter. Lastly, crew roles can also define workers' hourly wages, allowing for preset and ready-to-assign uses.
Setting Up Crew Roles
To set up your Crew Roles:
Select Setup from the left navigation menu.

Click User. A drop-down menu will appear.

Under User Security, click on Crew Roles.
The Crew Role Configuration
Upon clicking and opening an existing role, the Crew Role page will appear.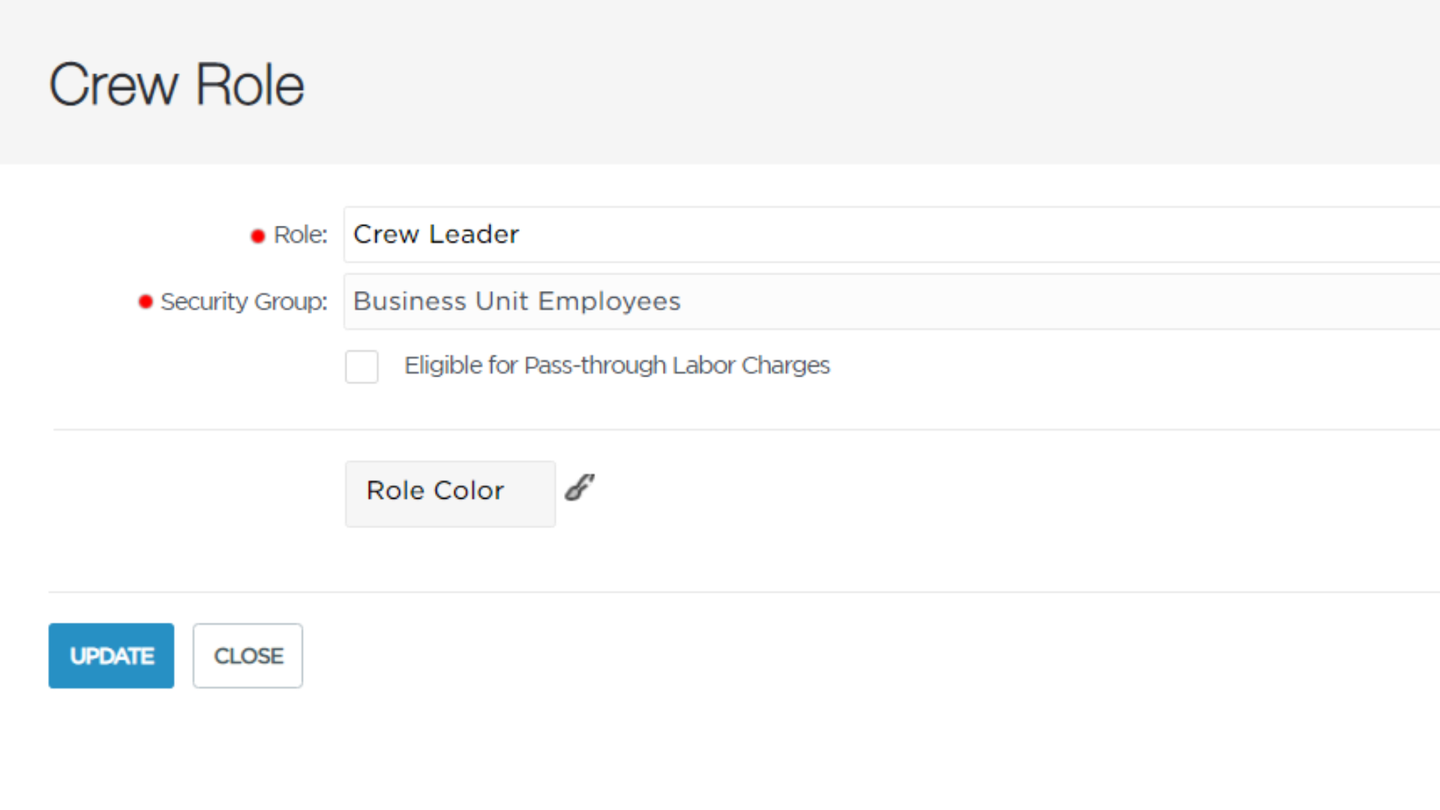 The crew role record contains a name, their association with the security group, and a role color, as explained in the table below:
| | |
| --- | --- |
| Properties | Description |
| Role | This is the label or name to which your role will be referred to. |
| Security Group | This is the role associated with the security group mentioned. |
| Eligible for Pass-through Labor Charges | This indicates that the crew member's hourly wages are charged and paid according to the role. |
| Role Color | This selected color will represent this specific crew role. |
User Profile
User-specific wages linked to the user role can be set up under the user profile. To get to the User Profile:
Click on Business Unit from the left navigation menu.

Under Employees, click on Employees.
Note:
Only franchise owners have this section under their user profile.

Users with franchise owner security permissions have access to data associated with the franchise(s) for which he/she has privileges as franchise users.
The employee details screen will contain a list of all your employees. Click on an

employee's name.
Scroll down on the page until you find Business Unit Specific Data.

Under Employee Wages, click Edit.
Enter your desired wages in numbers as indicated by the red arrows in the image below.
Note:
Wages are fixed once it is applied to work orders.

Any changes to these wages will not be applied regardless of whether the work order is scheduled for the future or the past.