Time-Based Discount
Follow
This article will provide an overview of time-based discounts and how to configure them.
In this article:
Overview
Time-based discounts allow you to offer your customers discounts based on the day and/or time of their booking. Whether it's to drive more bookings to slower days or times or to refine your pricing, time-based discounts are a powerful way to improve your scheduling and revenue.
Note: To activate the feature, please contact the Vonigo admin.
Locations & Zones
To help you maximize revenue, time-based discounts can be set up by zone, service type, and on a per-location basis for multi-location operations.
Discount Options
Time-based discounts can be applied through the following options:
Discount by the days that follow the current date of the booking

Discount by the day of the month

Discount by the day of the week
With all three options, discounts can be available for specific times or the full day to give you flexibility in applying them.
Order Intake
When making a reservation, the discounted days and times are highlighted so your team can find them easily. When the job is booked, the discount automatically applies to the total.
Set Up the Time-based Discount
Go to Franchise > Zones > Zone Details screen.

Select the time-based discounts option.

Set up one of the following options below.

| | |
| --- | --- |
| Days Following the current date of the booking | Day 1 to 7, starting from the current date of the booking. |
| Discount By Date of the Month | List of days from the 1st day of the month to the last day of the month, from 1 to 31. |
| Discount by day of the week | Representing weekdays from Monday to Sunday. Discount can be applied to the whole day. |
Discount by day of the week
You can provide a discount value against an individual day record or based on a specific time within each individual date by selecting the Specific time only link and providing a time when the daily discount is applicable.

Discount value against a day record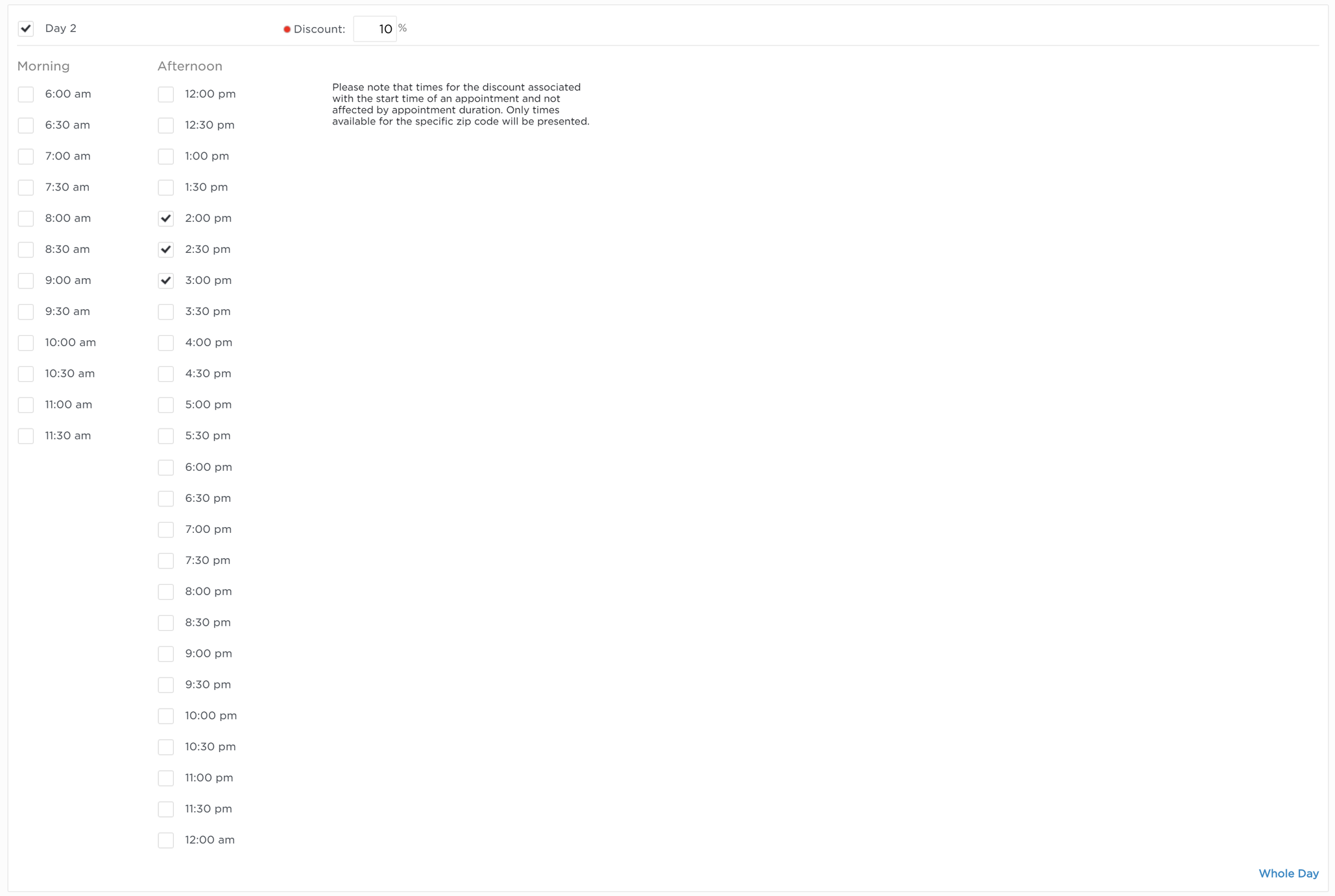 Discount at specific times
Note: The discount value may only be modified daily.
View Time-Based Discounts
Go to Franchise > Zones > Time-Based Discounts.


Availability Page During Order Intake
There are two types of availability pages during order intake:
Discount configured with whole-day option
The day is highlighted in blue.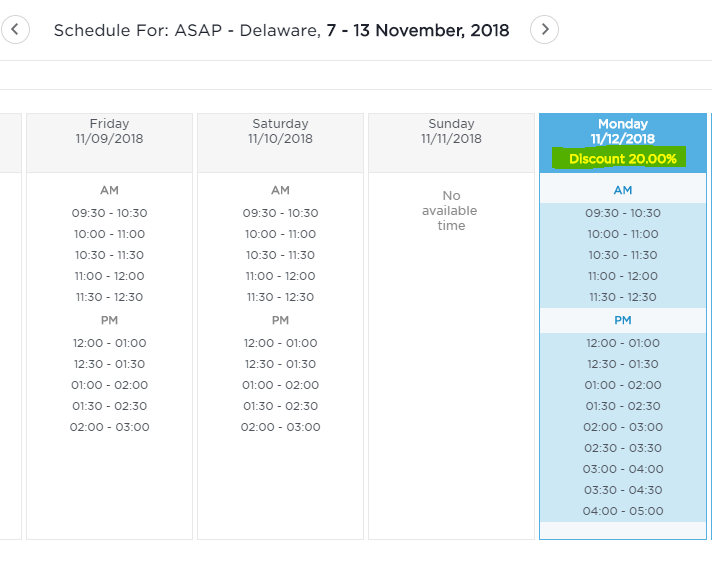 Discount is configured with a time slot option.
The day is highlighted in green.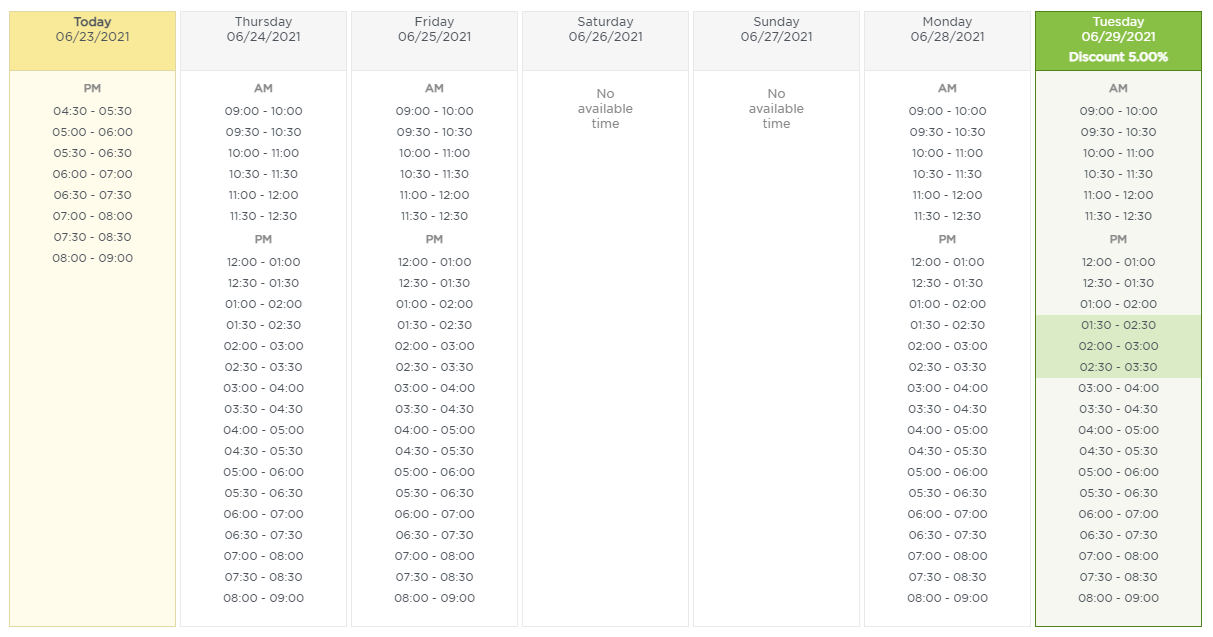 Note: The discounted slots will be highlighted.
When "discounted time" is selected dialogue box appears, prompting you to choose whether or not a discount is being applied.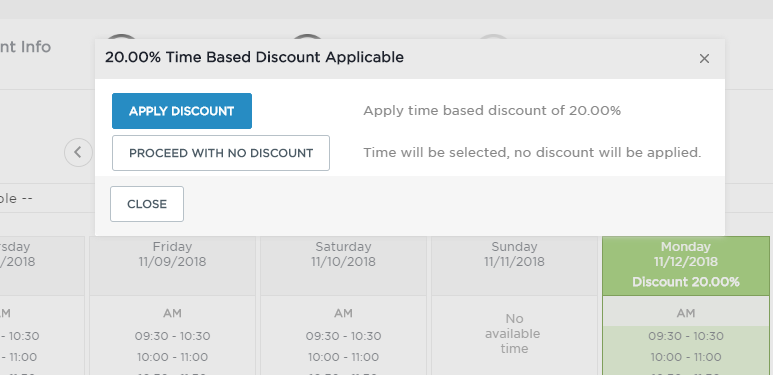 If "Apply Discount" is selected and the job is booked, you will notice the discount amount was accounted for to calculate the service/charge total.