QuickBooks - Online - Franchise Invoice Prefix
Follow
This article provides an overview of how to configure the Franchise Invoice Prefix, also the information and details regarding Franchise Invoice Prefix.
Franchise Invoice Prefix
The franchise invoice prefix is being used for the differentiating invoices coming over to QBO from the particular franchise. In addition to that, it is being used In order to avoid invoice number conflicts in QBO.
The Franchise Invoice Prefix can be accessed:

Navigate to Business Unit

Select QuickBooks Integration Setup under the Accounting Settings

Click the Integration Setup

Under the Additional Settings, Select Other Settings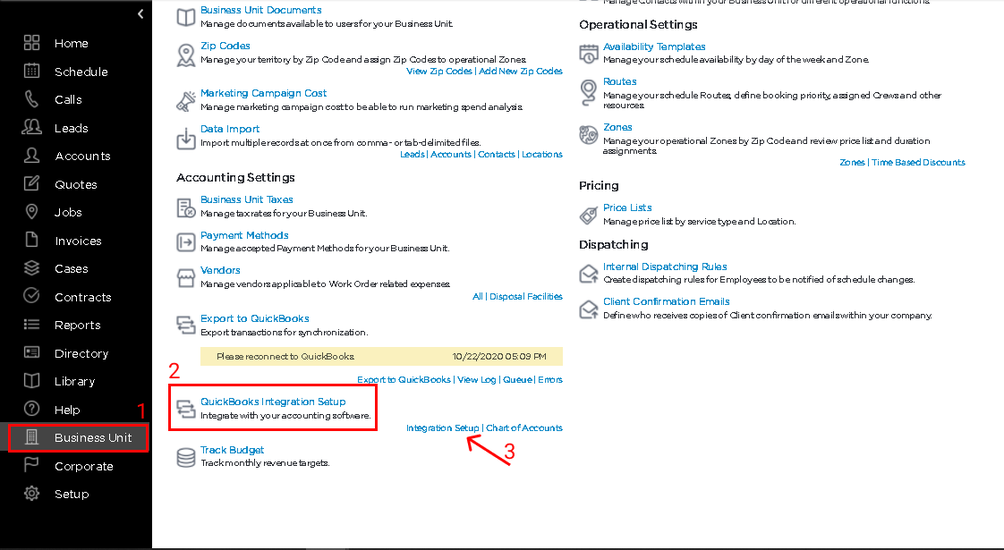 Configuration option only available if QBO is enabled on the franchise level.
Note:
The invoice prefix cannot be used in environments where External Invoice No functionality is activated on the Vonigo Invoice Template Level
The prefix is added to the External Invoice No field at the time the invoice is exported into the QuickBooks queue
Access Invoice Appearance Templates
Note: Invoice Appearance Templates are configured by Vonigo Administrator only on the Global Level.
To access Invoice Appearance Templates:
Navigate to Setup

Click the drop-down list of Prices & Finance

Select the Invoice Appearance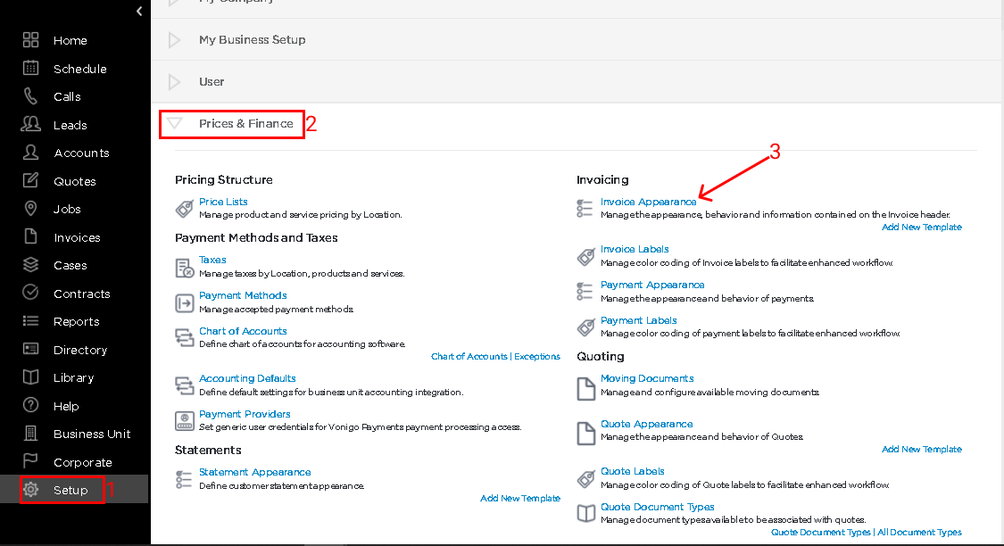 For Developers
Note: tblInvoiceDetails.invoiceExternalNo is populated at the time the invoice is exported to the queue, NOT when the sync occurs.
Hint
Sometimes, you might want to add a prefix to a single invoice or group of invoices.

Before following the steps below, you should consider whether the client would be best served by using a prefix permanently.
Temporary Applying Invoice Prefix
Steps for the temporary applying invoice prefix:
Make sure no one else will be exporting any invoices (or payments) for the franchise in question.
Add the invoice prefix you want to use.
Export the invoice or invoices you want to modify.
Remove the invoice prefix.